Welcome to the popular wiki!
a collaborative wiki on the cult series Popular, which anyone can edit!
---
aboutpopular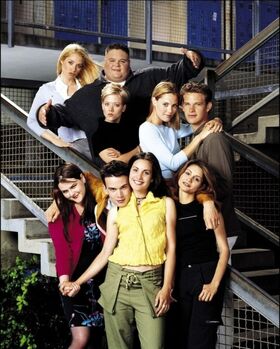 It's a culture clash of epic proportions when cheerleader Brooke McQueen (Leslie Bibb) and unpopular journalist Sam McPherson (Carly Pope), girls on the opposite ends of the school hierarchy, find themselves forced to make nice when Brooke's father meets Sam's mother on a cruise and they become engaged. The girls are forced to reside in the same house, and their groups of friends are forced to socialize. Their groups of friends include smart-but-socially-awkward Harrison (Christopher Gorham), animal rights activist Lily (Tamara Mello), aspiring cheerleader Carmen (Sara Rue), popular quarterback Josh (Bryce Johnson), power-hungry cheerleader Nicole (Tammy Lynn Michaels), jock with a big heart Sugar Daddy (Ron Lester) and bubbly (but not-too-bright) cheerleader Mary Cherry (Leslie Grossman)
kennedymedia
kennedyhigh
kennedynews
Loading RSS data...
Refresh
Community content is available under
CC-BY-SA
unless otherwise noted.